Welcome To The School of Traditional Karate

New Term Starts Monday 4th September 2023
The New Term will start on Monday 4th September 2023 at our Windsor Dojo Clewer Parish Hall SL4 5EN
Eton Wick Dojo
Training for Parents wishing to study Karate at the same time as their Children. Classes every Tuesday 6.30 to 8.00pm
Instructor Program
The next module of the Instructor Program is on Saturday 7th October 2023. 9.30am to 12.30pm at the Windsor Dojo
Beginners Course
Ladies & Gentlemen wishing to start training in Shotokan Karate are invited to join our class every Monday and/or Thursday 7.30pm to 9.00pm at our Windsor Dojo
Children 6.30 to 7.30pm
Family Classes; Eton Wick Dojo every Tuesday 6.30 to 8.00pm
The School of Traditional Karate was established in Windsor in 1991. The senior clubs instructors each have in excess of forty years karate experience. New members are always welcome.
Karate classes for Adults and Children.
Family classes, so that parents may train at the same time as their children.
We have a full system of self-defence and traditional karate, offering the highest standards in Maratial Arts; Karate and Kobujutsu.
Children and Youth members compete in local and national Tournaments.
Karate is a lifestyle, which adds to a perfect balance in life for Adults and children, it develops confidence and physical ability, as well as improving concentration and learning abilities.
The physical exercises and breathing involved in Karate assist with developing ones body, mind and spirit, which result in a massive improvement in general well being.
We have students studying Karate as part of their Duke of Edinburgh Award scheme.
Details for Adult Beginners Course and Children Beginners Course in  2023, at Clewer Parish Hall Windsor & Eton Wick Dojo.
Applications need to be made using our Membership Course Form.
We are members of the English Karate Federation, affiliated to the World Karate Federation.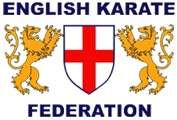 Windsor Shotokan Karate Club: Headquarters
Clewer Parish Hall
Parsonage Lane
Windsor
Berkshire SL4 5EN
Our system is structured to allow continual progress, both physically and mentally, whatever age the practitioner is.
Gareth Hibbitt 07545306492
email: gareth.hibbitt@googlemail.com
Gareth Hibbitt
email: gareth.hibbitt@googlemail.com